Rebekah Harkness (1915-1982)
Rebekah Harkness, born Rebekah Semple West, was one of the foremost American patrons of dance. An avid dance enthusiast who had studied ballet and Spanish dance, her second marriage – to Standard Oil heir William Hale Harkness – made her one of the wealthiest women in America. Throughout the 1960s and 70s, she initiated and supported many dance endeavors through the Rebekah Harkness Foundation, including the summer dance festival at the Delacorte Theatre in Central Park. She also supported medicine through her husband's foundation, the William Hale Harkness Foundation, establishing facilities and programs at New York Hospital and NYU Medical Center. In the 1970's the Rebekah Harkness Foundation was renamed the Harkness Ballet Foundation, Inc. It was merged with the William Hale Harkness Foundation in 1996 to become today's Harkness Foundation for Dance.
Among Mrs. Harkness' notable contributions to the dance field were the founding of an internationally touring professional ballet company, the Harkness Ballet; establishing the Harkness House for Ballet Arts, a training school housed in a building she purchased on Manhattan's East 75th Street; and the short-lived Harkness Theatre, housed in a former movie house near Lincoln Center. During the presidency of Gerald R. Ford, she contributed funds to build a portable performance stage for the White House that remains in use. In addition to being a serious avocational dancer, she was also a sculptor and composer.
Mrs. Harkness died in 1982 at the age of 67.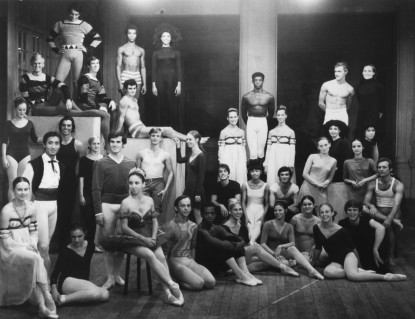 Harkness Ballet (1964-1975)
Rebekah Harkness founded the Harkness Ballet in 1964 with a roster of 40 dancers. Over its almost dozen years, the troupe built a repertoire championing new modern American ballets. The company performed in the United States and on critically acclaimed tours abroad. Choreographers whose work was represented included Agnes DeMille, Todd Bolender, John Butler, Jack Cole, Anton Dolin, Stuart Hodes, Brian McDonald, Donald Saddler, George Skibine, Norman Walker, Helen Heineman, Margo Sappington, and Vicente Nebrada, among others. The company was also known for its collaborations with high-profile designers, such as Willa Kim, Raoul Pene duBois and Rouben Ter-Arutunian. Among the principal dancers were well-known artists like Marjorie Tallchief, Brunilda Ruiz, Helgi Thomassen, Finis Jhung and Larry Rhodes, who also co-directed the company during the late 1960's with Benjamin Harkarvy. After the Harkness Ballet closed, many of its principals and soloists went on to prominent careers as star dancers in other companies, dance company artistic directors, and master dance teachers.
Harkness Theatre (1974-1975)
In 1964 Mrs. Harkness purchased a former movie house, the Colonial Theatre at 1887 Broadway near Lincoln Center, with the dream of creating a state of the art theatre constructed especially for the needs of the dance art form. She envisioned that the theatre would feature annual seasons of the Harkness Ballet, and present other dance companies in an appropriate dance venue. Work was begun in 1972, and the Harkness Theatre opened to great fanfare in April of 1974. The stage was scientifically designed for resiliency with a double layer of basket-weave wooden floor set on top of rubber springs, and featured deep wing space on both sides and a high proscenium arch. Even the rehearsal/warm-up room was given thought – its dimensions were the same as the stage's, enabling full-out warm-ups before a performance. There were sixteen dressing rooms on the stage level or one level above, so that dancers would not have to travel extensively to reach the stage from these rooms. The theatre was ornately decorated in a European style. However, a slack economy and the modest seating capacity made it difficult to maintain the theatre's profitability, and it closed after the 1975 season.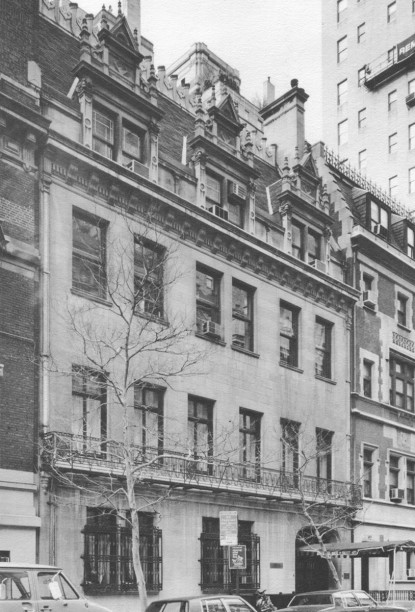 Harkness House (1965-1985)
Harkness House for Ballet Arts, located at 4 East 75th Street in Manhattan, was the rehearsal and training center for the Harkness Ballet, and housed the Harkness Ballet School. Built in 1896 as the home of Thomas J. Watson, founder of International Business Machines (IBM), the mansion was acquired by the Harkness Ballet Foundation, Inc. in 1965. The building was renovated to meet the needs of young artists, with five studios, ample dressing rooms, a library with a music listening room and audiovisual facilities, a canteen, and offices for a resident doctor and masseur. Its faculty included legendary master teachers such as David Howard, Maria Vegh, Patricia Wilde, Joanna Kneeland and Nancy Bielski. The curriculum, based in classical ballet, also included modern dance, jazz, and Spanish dance. Numerous dancers coming to New York City from across the U.S. and abroad attended classes at Harkness House as their first experience of the New York City dance world, and many report that studying there had a significant impact on their career.